6th International Conference on Scientific communication in the Digital Age. Kyiv, March 29-30, 2019.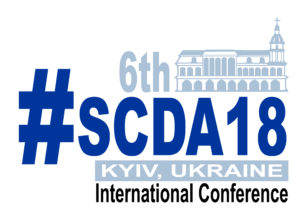 ---
The Conference is organized by:
National University of Kyiv-Mohyla Academy Library
Maksymovych Scientific Library of the Taras Shevchenko Kyiv National University
State Scientific Organization "Ukrainian Institute of Scientific and Technical Expertise and Information"
ELibUkr: Electronic Library of Ukraine
---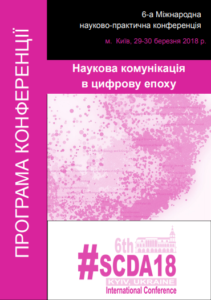 ---
SPONSORS: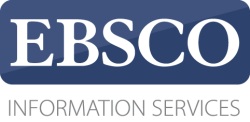 EBSCO Information Services – EBSCO Information Services is a division of EBSCO Industries Inc., a family-owned company since 1944. EBSCO offers library resources to customers in academic, medical, K–12, public library, law, corporate, and government markets. Its products EBSCONET, EBSCOhost, a collection of 600,000-plus ebooks, subject indexes, EBSCO Discovery Service (EDS), full-text databases and others.

---
Clarivate Analytics (formerly the Intellectual Property and Science business of Thomson Reuters) owns and operates a collection of leading subscription-based businesses focused on scientific and academic research, patent analytics and regulatory standards, pharmaceutical and biotech intelligence, trademark protection, domain brand protection and intellectual property management. Company owns well‐known brands that include Web of Science, Cortellis, Thomson Innovation, Derwent World Patents Index, CompuMark, MarkMonitor and Techstreet, among others.
---
Chemical Abstracts Service (CAS), a division of the American Chemical Society, is the world's authority for chemistry and related information. For over 100 years CAS collects and analyzes the world's disclosed science to help advance discovery. CAS employs hundreds of scientists who read the literature every day to extract, organize, and connect the valuable details within. These scientists have amassed a wealth of knowledge that assists them in uncovering insights and trends not found by technology alone. CAS products and services, such as SciFinder, STN, MethodsNow, provide comprehensive, reliable answers to a myriad of questions that researchers, business leaders, and information professionals ask every day. Having the right information at the right time is the foundation of successful and efficient innovation. Partnering with CAS empowers organizations around the world to turn information into a strategic advantage.
---
Plagiat.pl Ltd is the Polish market leader of software created to combat copyright infringement and unauthorised use of another's intellectual property. The company provides an Internet Antiplagiarism System and other essential tools to protect intellectual property to academic institutions, high schools, publishing houses and website owners. Plagiat.pl Ltd has been helping educators and students to prevent plagiarism since 2002. Plagiat.pl Ltd currently cooperates with more than 200 universities just in Poland. For the last few years the company under its international brand StrikePlagiarism.com extended its activities in other countries, for example Romania, Kazakhstan, Azerbaijan, Colombia, Germany or Moldova.
---

Cambridge University Press (CUP) is the publishing business of the University of Cambridge. Granted letters patent by King Henry VIII in 1534, it is the world's oldest publishing house and the second-largest university press in the world. It also holds letters patent as the Queen's Printer. The press's mission is "To further the University's mission by disseminating knowledge in the pursuit of education, learning and research at the highest international levels of excellence." Cambridge University Press is a department of the University of Cambridge and is both an academic and educational publisher. With a global sales presence, publishing hubs, and offices in more than 40 countries, it publishes over 50,000 titles by authors from over 100 countries. Its publishing includes academic journals, monographs, reference works, textbooks, and English-language teaching and learning publications.
---
Speakers Presentations in NaUKMA repository eKMAIR